Top 10 Tips to Choose Your Managed IT Service Provider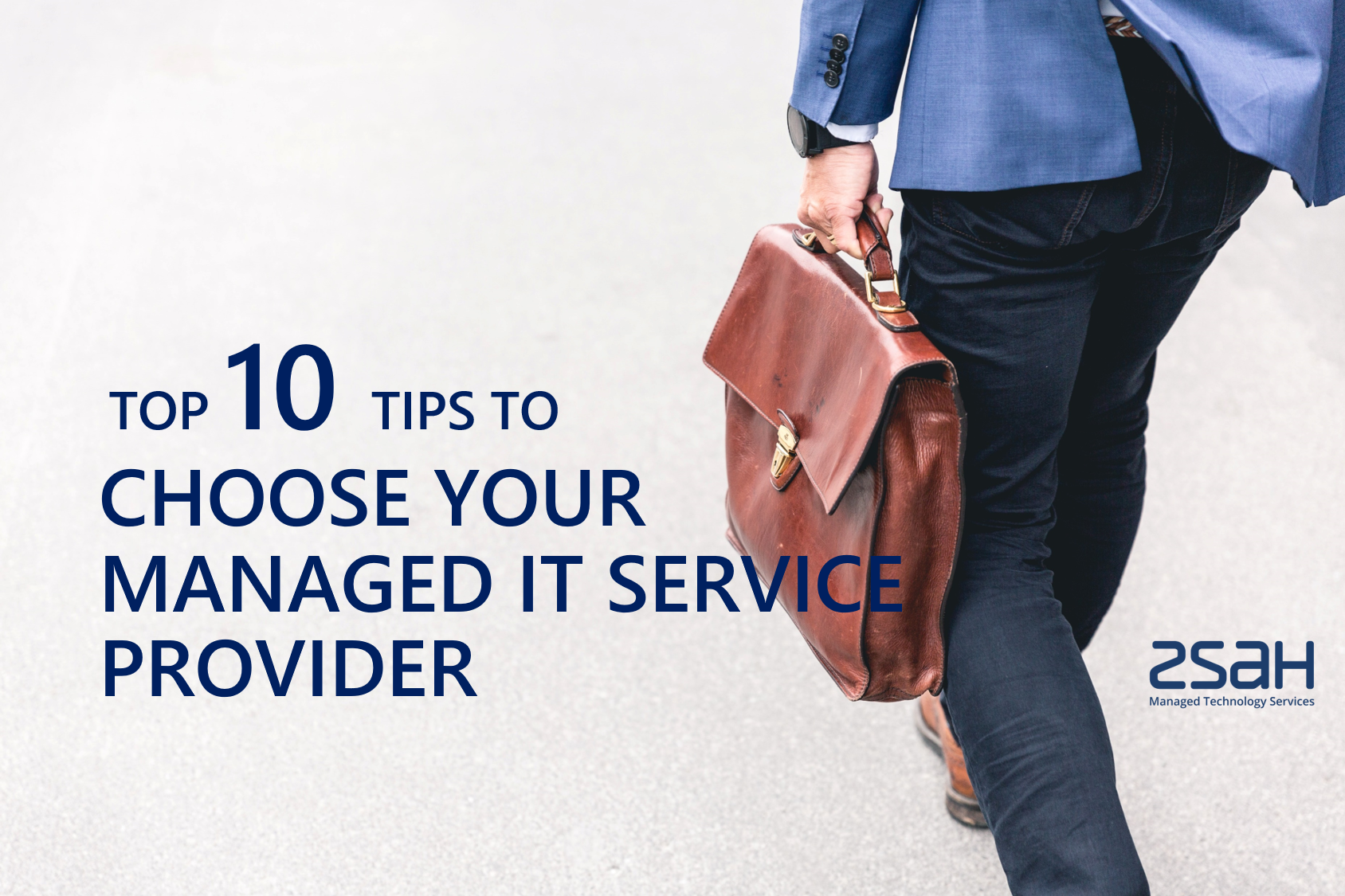 Organisations looking to free up staff for core tasks or do not want to invest in a fully-fledged IT department often turn to a managed service provider (MSP).
A managed IT service provider is supposed to help control costs, increase competitiveness, and improve scalability.
But despite the maturity of the managed service provider market, vendors and clients still fail to have successful engagements. According to a recent study conducted by Forrester Research Inc, many clients continue to struggle to extract value from their managed service provider. If you aren't deriving the benefits of IT managed service, something is wrong, and you need to reassess your relationship.
Chief Information Officers are also struggling to justify their spending on managed service providers to non-IT executives. The problem is exacerbated by the lack of proper metrics and technical complexity. Additionally, MSP vendors are poor at demonstrating how their services positively impact an organization's critical areas.
If you are having problems with your managed service provider or are thinking of hiring one, below are top 10 tips for choosing a managed IT service provider.
Add a header to begin generating the table of contents
Top 10 tips for choosing a managed IT service provider
1. How MSPs respond to your RFP?
The first step to hiring a managed service provider is to send out a Request for Proposal (RFP) to qualified providers that you think can meet your criteria. The RFP outlines the project scope and lets the prospective provider know your expectations.
So, the first thing you should look out for is how they respond to your RFP. Some of the things you should consider in this regard include:
Did they read the proposal and respond to your specific requirements, or does their proposal look like something generic that they quickly put together?

Does their plan accommodate your business operations?

Do they provide a time-line and milestones to measure the plan's success?

Does their plan improve your business?

Are expectations spelt out and deliverables defined?

Does their plan address business continuity?
These are all critical if you are looking for a managed service provider. They must understand your business.
2. What's in the Agreement?
There are numerous instances of companies signing up with an IT service provider and fail to get a detailed managed services agreement (MSA) that explains the services, software, licensing, hardware, and labour being provided.
Ensure you get an agreement.
The managed services agreement should
be

brief but contain sufficient detail to explain services and costs. 

include service standards with defined service levels and a performance guarantee.

be tailored to fit your business, not just a cookie-cutter agreement.
The managed IT service provider should also review the agreement with you section by section. Both parties must understand what's in agreement.
3. What's the value?
You need to ask yourself if the partnership between you and the managed IT service company provides value. Below is a checklist that would help you determine if the engagement offers value to your organisation:
Does your managed service provider follow published best practices?

Every hardware manufacturer has published best practices that they recommend to get the most out of their product concerning installation, deployment, configuration, and ongoing maintenance.
Do they have a documented process with clearly defined configurations and procedures?

Most good MSPs will have a written document outlining all their processes and procedures.
Do they provide a technology assessment to determine baseline performance?

This is a simple performance metric but an important one because you can't tell if things are getting better or worse unless you have a baseline before getting started.
Is there a network improvement plan?

Is the IT service provider giving you recommendations or a statement of work that shows you potential concerns such as aging hardware and outdated software?
Do they have a dedicated admin or resource to serve as the primary contact person for all matters?

Do they offer documented vendor management?

For example, forms can be included in the MSA that authorise the vendor to communicate with your ISP, phone vendor, power company, leasing agency, maintenance personnel, and so forth so that they can intervene in a critical situation.
Is mobile device management offered by the managed service provider?

As the technosphere is moving more towards centralised cloud computing systems, many end-users are bringing their own mobile devices to work and connecting to cloud services.
Are they professional?

The support specialists that work with end-users should be presentable and have a uniform appearance. They also have good customer service skills, be responsive, and communicative.
And when determining value, the most critical question is whether the solution solves the problem?
4. What's the MSP's policy on your control of access?
This is one thing that many customers don't often think about when they are hiring a managed service provider.
Do they have the keys to the castle, and what can you do if you decide you don't want to work with them anymore?
Some unscrupulous providers will hold you hostage and refuse to turn over admin passwords until you pay contract cancellation fees or some other fees they may demand to compensate for lost business. This can cause significant problems when you're trying to move to a different provider.
To avoid such a scenario, give the provider a duplicate admin account for access control and remove the rights to change the admin password. If you decide you don't want to work with the vendor anymore, all you have to do is disable or delete the duplicate admin account.
When talking to a managed IT service provider, find out what their policy is on your control of access.
5. What's the size of the MSP?
There are two aspects to this; the first is the company's size - there is too big, and there is too small.
For a company that's too small,
their service levels may drop if a technician is out of the office.

they may not be able to handle the increased activity.
For a company that's too big,
your support tickets may get lost among too many technicians. 

there may be no one familiar with your network or business, resulting in slower issue resolution.
It would be best if you struck the right balance by going for a medium-sized firm that charges a fair fee.
6. Does the MSP have Help Desk?
There are several managed service providers out there that don't have a dedicated support desk. They lack a ticketing and complaint management system and resolution policy.
Avoid such companies like the plague.
Select a provider that takes customer support seriously and uses appropriate methodologies and processes to manage support requests.
We recommend that you work with a provider that uses ITIL (Information Technology Infrastructure Library) methodology, a documented system of handling, maintenance, support, administration of network infrastructure.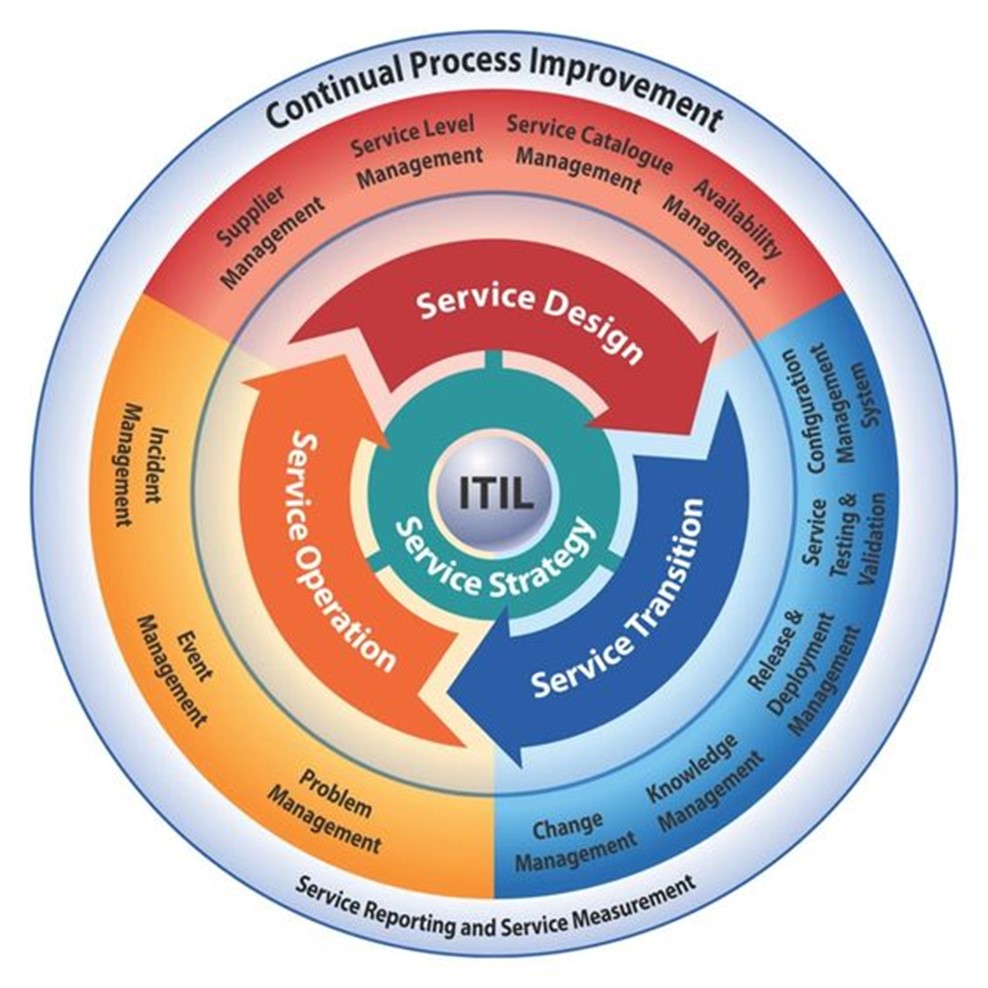 (Image source: Pinterest)
7. Does the MSP offer monitoring and reporting?
Another key tip is finding out whether your managed IT service provider will monitor your network and actively seek problems. Also, find out if they have a track record of calling their clients when there is a problem before they even know about it.
It helps to contact their existing customers, talk to people in the industry, and search for online reviews. Google reviews are particularly useful in this regard, especially when you are engaging a local company.
The provider must be able to provide you with regular reports on the performance of your network infrastructure.
8. Is the MSP certified?
MSP technicians must be certified.
Several certification organisations certify for all kinds of IT-related job roles. The most common is CompTIA and Microsoft for systems engineers and CISCO for network engineers.
These certifications provide you with the added assurance and peace of mind that you are working with professionals who know what they are doing.
9. Does the MSP have a VCIO?
A VCIO (Virtual Chief Information Officer) service is something that most MSPs provide. It includes several different activities and operability levels with your staff, such as weekly/monthly check-ins, quarterly reviews, and annual budgeting and planning.
The level of service provided depends on your structure and organisation and people dedicated to some of the IT roles. Having a resource on your staff to provide real IT consulting is a game-changer for your overall IT strategy.
10. What's the MSP's whole package?
Finally, examine the entire package.
You will often find that managed services providers have limited competencies. For example, they can give you desktop or server support, but when it comes to a problem with your phone system, they can't help with that and need to bring in a sub-contractor or can't help you.
It is vital to have a company that can provide end-to-end solutions. At the end of the day, your managed service provider is your IT department.
zsah Managed Cloud Hosting Services
Companies around the world now appreciate the massive benefits of cloud-managed hosting. These benefits run the gamut from lower staffing and maintenance costs to huge energy savings, redundancy, and faster scaling.
With zsah cloud managed hosting, dedicated experts manage your cloud environment, which leads to reduced application hosting costs and frees up your staff to focus on core business tasks such as building better applications and business development.
Our solutions are bespoke and come with 24/7 support. You'll also have a dedicated account manager to look after your needs. Get in touch with us today to learn more about our cloud-managed hosting solutions.
Want to save a PDF version of this post?
Just enter your email below and we'll send you a copy.
Like our post? Share now!