3 Reasons to Outsource Management of Your Public Cloud Estate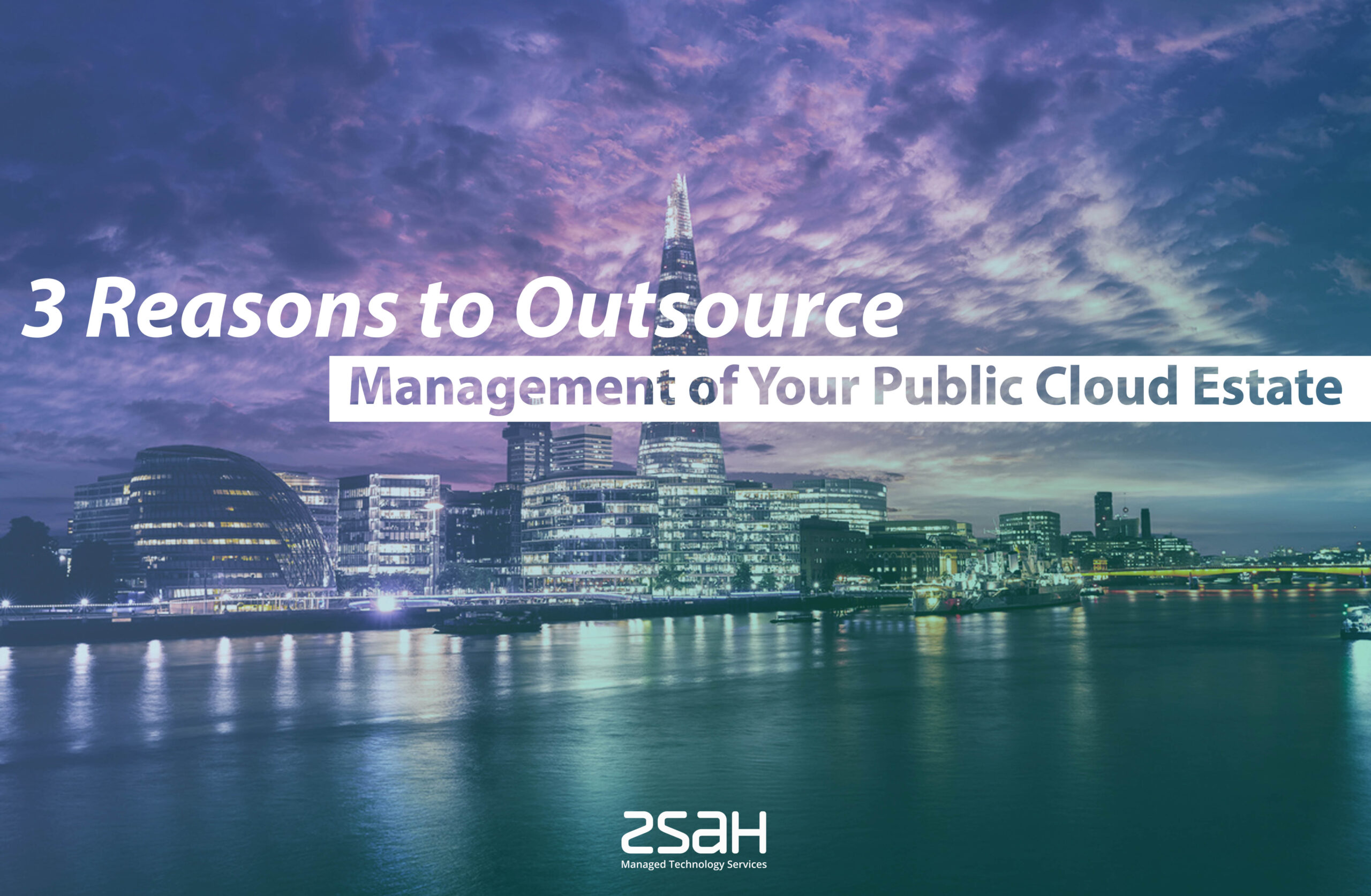 For SaaS companies – particularly those in the early stages of growth – building a public cloud estate on platforms such as Microsoft Azure, Amazon Web Services (AWS) and Google Cloud Platform (GCP) provides many benefits and great scope for scaling as requirements change over time.
With all cloud resources (such as servers and storage) being owned by public cloud service providers, early-stage SaaS companies reap the benefits of low entry costs (no need to fork out for hardware or software), near-unlimited scalability, and high reliability.
As such, enterprise spending on public cloud services has increased dramatically over recent years, according to research published last year by Gartner.
In fact, the amount of cloud spending has accelerated in the aftermath of the COVID-19 pandemic and is projected to hit $304.9 billion by the end of 2021.
In addition, a Flexera 2021 State of the Cloud Report found that, on average, organisations are actively running an average of 3.7 and 4.9 public and private clouds, respectively.
However, alongside the benefits, there are clear challenges when it comes to managing and maintaining public cloud estates as a SaaS company grows.
Even managing just one public cloud estate is burden enough for a growing company.
Managing two can be a major distraction from core business activities. And managing multiple providers and applications across multiple platforms simply isn't practical.
It's imperative, therefore, that SaaS companies find a solution for effectively managing both the performance and the costs of running complex application environments across their public cloud estates.
A year before the COVID-19 pandemic, 1,016 executives were surveyed for an IBM study. At the time, only 41% of 1,016 executives surveyed reported that they had a multi-cloud management strategy, and just 38% had procedures and tools in place to operate a multi-cloud environment successfully. In the wake of the pandemic, this has changed dramatically.
The pandemic led to more use of cloud-based applications, leading to greater demand for cloud services than planned. 92% of companies now have a multi-cloud strategy.
 But, managing multi-cloud environments in-house comes with several challenges. Most companies lack the procedures, tools and expertise to operate a multi-cloud environment successfully. A recent survey of 1,900 IT and security professionals by The Cloud Security Alliance and Algosec found that 47% lack cloud expertise, and 32% had insufficient staff to manage cloud environments.
(Image source: Cloud Security Alliance)
From a competitive standpoint alone, this is worrying news for most enterprises that don't have multi-cloud management expertise, tools, and resources.
Managed Public Cloud Services
As a SaaS company grows in the public cloud, one of the biggest questions it needs to ask itself is: Can we manage our whole public cloud estate ourselves?
When the time comes for a SaaS business to scale up its operation, the complexities of public cloud solutions scale up along with it.
These complexities take many forms.
For example, there are many hidden public cloud costs that SaaS companies may not be aware of when they sign up to a service.
If a SaaS application starts to rise in popularity, for instance, its usage rises, too, requiring additional resources and capacity from the public cloud provider.
However, these additional resources all come at a cost, which can lead to a nasty sting at end-of-month bill time if cost management hasn't been performed effectively.
And the challenges don't stop there.
Security is of course of huge concern for SaaS providers, especially those operating in financial services, government, healthcare, or other industries where sensitive customer data must be handled and protected with extreme care.
Security and privacy laws must be met, but managing a secure and fully-compliant public cloud estate alone can be extremely challenging – especially for those operating a multi-cloud environment.
The alternative solution for SaaS companies is to invest in managed public cloud services.
This is where the SaaS company outsources the management of their public cloud estate (or estates) to an expert third-party cloud specialist, who becomes responsible for monitoring, managing and maintaining the public cloud architecture and environment.
This is hugely beneficial for SaaS companies, for it means that the managed public cloud services provider takes care of all the complex tasks required to manage public cloud usage, tools and application stacks, while the SaaS company itself is free to focus on doing what it does best – building outstanding applications and winning new customers.
Let's consider three key benefits of managed public cloud services.
3 Benefits of Outsourcing Management of Your Public Cloud Estate
1. Optimised Cost Management
Optimising public cloud costs is no mean feat.
Public cloud vendors tend to offer a huge and confusing variety of package types, pricing options and service add-ons, and selecting the right one can be a minefield.
And when the time comes for a SaaS company to scale, additional deployment and resource requirements must be also taken into careful consideration, as must software licence costs if public cloud spend is to be kept under control.
Flexera found that annual public cloud spend is upwards of $1.2 million for 68% of enterprises (1,000+ employees) and 38% for small-to medium-sized businesses (<1,000 employees).
This is especially concerning given the fact that cloud users are wasting up to 30% of the money they spend on services.
By outsourcing the management of your public cloud estate to a cloud services provider, not only do SaaS companies benefit from expert cost managers who know precisely how to allocate funds for the right public cloud services, they can also benefit from cost savings, as the provider will identify how much spend the company is currently wasting, where it's being wasted, and how to prevent it.
Further cost savings are realised from not having to hire or train full-time in-house IT staff to manage the public cloud estate.
When a SaaS company opts to manage public cloud services on its own, the company must dedicate a person – or even a whole team – to ensuring that the public cloud estate is working effectively around the clock.
However, by outsourcing this work to the experts – who already have the knowledge and expertise required to run public cloud estates efficiently – savings can be immediately made.
2. Dedicated, Round-the-Clock Expertise
Another key benefit of outsourcing the management of your public cloud estate to a managed services provider is the 24/7 support you will receive.
Investing in managed public cloud services means having dedicated experts on your SaaS company's team right around both the clock and the calendar.
If there's ever an issue or an emergency outside of your own business hours, you can rest assured that your managed cloud services provider is taking care of your system as a priority, and will be dealing with any issues that arise as and when they happen.
Managed public cloud service providers also ensure that your security settings are all in place and robust, and that your system is configured to comply with any regulatory requirements that affect your business.
In addition, the provider will ensure that cloud maintenance is completed on a regular basis, and that your public cloud service scales up or down as required in a quick and responsive manner.
Outsourcing the management of your public cloud estate also means that along with your company benefitting from all the usual advantages of public cloud – reliability, scalability, and affordability – it further benefits from an expert team who will find and utilise every efficiency available.
3. Continuity, Backup and Disaster Recovery
Business continuity is essential to any SaaS provider. Downtime is costly.
If your customers can't access your application or there is limited feature availability, you risk losing them and their custom to a better-prepared competitor – especially if it starts becoming a frequent occurrence.
Managed public cloud service providers commit to constantly monitoring your public cloud estate to prevent availability issues before they occur.
A big part of ensuring high availability involves developing a robust backup and disaster recovery (DR) strategy for your public cloud estate.
It's estimated that 80% of all companies that experience a major interruption that lasts more than five days without any DR plans go out business.
Managed public cloud service providers ensure that there is a strong set of policies and procedures in place to protect against breaches and other disasters, as well as the architecture to enable both business continuation and recovery of any data which are vital to your company and your customers.
This is especially important in the post-General Data Protection Regulation (GDPR) environment. As described in article 32 (1) of the GDPR legislation:
"Taking into account the state of the art, the costs of implementation and the nature, scope, context and purposes of processing as well as the risk of varying likelihood and severity for the rights and freedoms of natural persons, the controller and the processor shall implement appropriate technical and organisational measures to ensure a level of security appropriate to the risk, including inter alia as appropriate."
DR solutions ensure GDPR requirements are met – and service disruptions protected against – through utilising cloud computing to protect your applications and data from both natural and human disasters by enabling full recovery from the cloud.
Outsource Management of Your Public Cloud Estate with zsah Managed Services
As SaaS companies rely more and more on multiple public cloud estates, managed public cloud services become increasingly valuable.
At zsah, our managed services take the stress and responsibility of running and maintaining your public cloud estate completely out of your hands, leaving you to focus entirely on your core business operations.
We have a team of fully qualified Microsoft Azure, AWS and VMware engineers on staff to ensure whatever and however many public cloud providers you are with, we can add real value to your business.
Our approach is consultative right from the start. We take the time to understand your business's unique requirements and provide solutions perfectly suited to your organisation and your customers.
Get in touch to find out more.