Does Your Cloud Provider Do These 8 Things?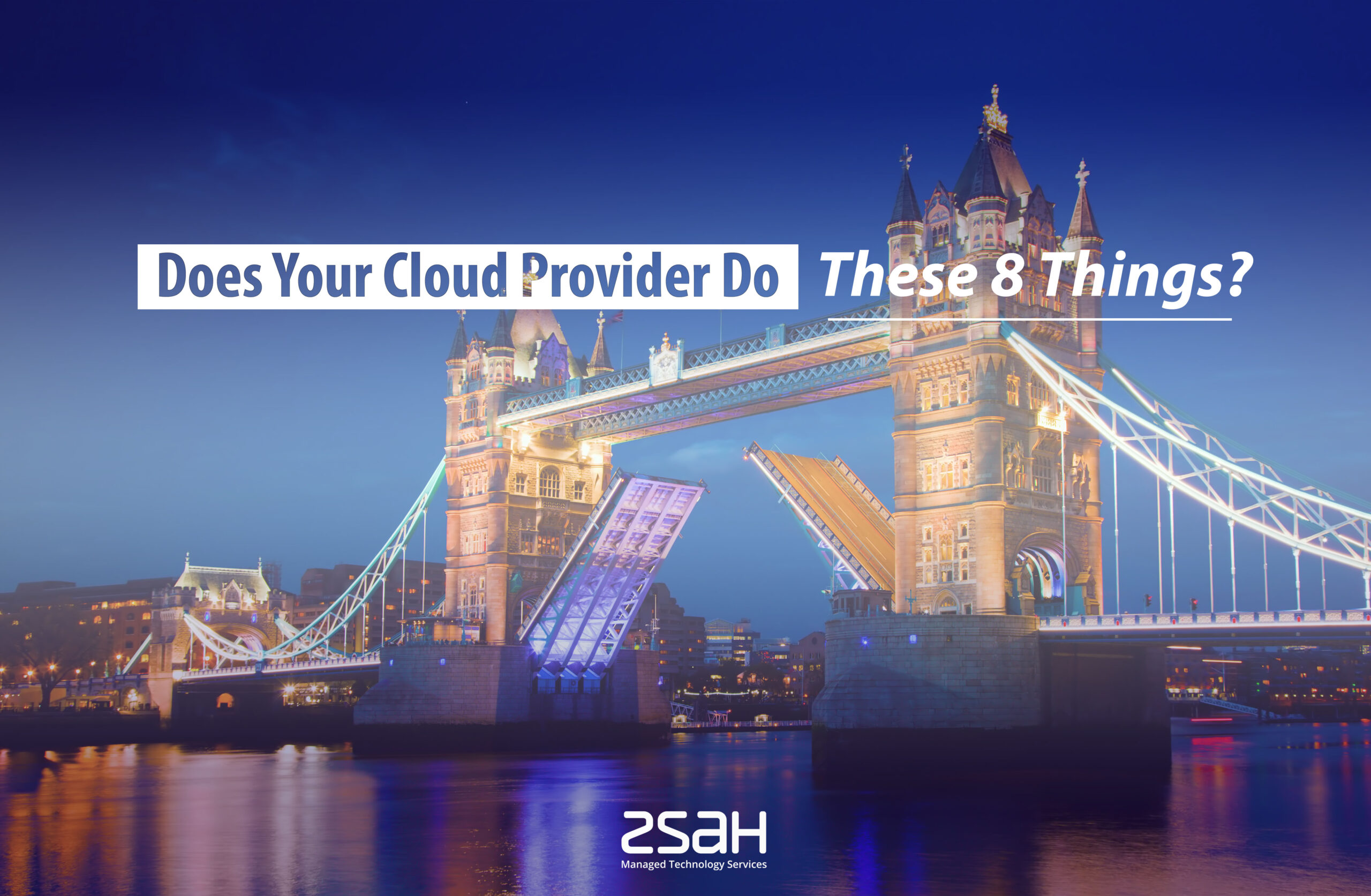 Since its debut, cloud computing has proved to be an invaluable asset to a business. It has transformed how we handle and store data and how we view our IT infrastructure.
Choosing a managed cloud provider to take care of your cloud computing needs is a major decision. Your preferred provider must tick a few important boxes before you make it.
Below are eight crucial considerations that should determine if your managed cloud provider makes the shortlist.
Does Your Cloud Provider Do These 8 Things?
Add a header to begin generating the table of contents
1. Keep You Safe
Your data is your most sacred treasure – therefore, it must be kept safe at all times. However, as we all know, data loss can occur at any time, without warning, and often with catastrophic results.
For example, hardware failure, power surges, or unforeseen circumstances such as natural disasters can lead to data loss.
Your cloud provider should be able to provide guarantees of your data's safety. The cloud is a safe and steady countermeasure to the risks associated with data storage – and your preferred cloud provider's experience and capabilities should help you sleep better at night.
2. Save You Money
Buying and maintaining in-house server equipment will cost your company money and time, and will require specialized knowledge and expertise. It is cheaper and more cost-effective, in the long term, to contract the services of a cloud provider.
But, there is a caveat, not all cloud services are good. A cheap cloud service may seem like it a cost-saving solution.
To determine the total cost of ownership (TCO) you must consider Service Level Agreements (SLAs), management, and support. With that factored in, then quite often the TCO is higher.
So, the point here is that a good cloud provider will be able to demonstrate an effective TCO through better value for money.
3. Have the Requisite Skills In-House
Cloud computing is complex and requires highly-honed and specialized expertise that isn't easy to come by. Estimates of the annual salary of an AWS Network Specialist range between $46,000 to $132,000.
And to run well-functioning servers, you will need more than one network specialist. In addition, depending on the cloud service you choose to employ, you may require different employees with different specializations. That is not only expensive but difficult to maintain.
A cloud provider provides you with all the needed expertise and specialized professionals under one roof.
Whether you choose to work with Amazon Web Services (AWS), Azure, Tableau, Verizon, Google Cloud, Databricks, or a combination, your managed cloud provider should be able to provide an all-you-need-in-one-package.
4. Have the Right Experience
As mentioned above, cloud computing is complex and technical. Therefore, avoid a cut-and-dry IT professional.
Network specialists in different cloud services are usually extensively trained in various aspects of cloud computing. Your cloud provider must demonstrate that they have the requisite experience and staff to handle your cloud computing needs.
Experience is just as important as technical know-how. Therefore, your cloud provider's team and the company itself should also have years of experience in this field before you can entrust them with your data.
LOOKING FOR A TECHNOLOGY PARTNER?
5. Have the Right Skills
Apart from cloud computing, what else can your cloud provider offer you? The best cloud provider will offer a host of different services and skills that complement or augment cloud computing.
At zsah, we offer so much more than cloud computing. We have curated an integrated service platform that transverses the cloud service.
We are happy to provide managed cloud services, devops and netops, digital advisory services, software development services, and cybersecurity solutions for your company.
We take care of all your technology and data needs, leaving you to focus on your core business.
6. Have a Proven Track Record
Your cloud provider must have an unassailable track record if you are to trust them with your data. Therefore, you should thoroughly examine their safety record, response to downtime and possible breach attempts, industry commentary, and accolades.
During your initial meeting, some of the questions that you may want to ask include:
Who are your customers?

What does the industry say about you?

How well do you fare against competitors, and what is your competitive edge?
If they cannot satisfactorily answer these questions, you should give them a wide berth.
7. Move and Adapt Quickly
Business needs change quickly, and you need an agile managed cloud provider to stand by you through the tumultuous and eventful nature of business.
The COVID-19 pandemic heralded us all into uncharted territory, and while it is unfortunate that almost everyone felt the heat, only the agile and adaptable survived.
Your managed cloud provider should be able to build custom solutions that cater to your company's present needs and have the capability to adjust and change as you need them to.
Our success at zsah is attributable primarily to our tailor-made solutions that cater to different companies in different industries and of various sizes. So, whatever your cloud needs may be, zsah can make it happen.
8. Get You Out on a Jolly
Does your cloud provider come to your office to meet you face-to-face? Do they provide you with a dedicated account manager that will still be looking after you two years from now?
A personal touch and not having to speak to a different person each time you call are important considerations when choosing a cloud provider.
Moreover, most cloud providers do not care about your well-being beyond your ability to pay for their services, but at zsah, we are mindful that meeting outside the traditional work environment is an essential component to strengthening working relationships and improving collaboration.
So, we take our clients out on a jolly a couple of times a year. You get a chance to know who we really are and discover more about our staff, their hobbies, interests, and past career pursuits.
zsah – Managed Cloud Technology Services
At zsah, we have a wealth of experience in the technology and data sphere. We are network partners to AWS, Azure, Verizon, Clearswift, Databricks, Tableau, and more.
In addition, we are trusted collaborators of some of the UK's and the world's most notable brands. As a result, we have received a multitude of awards and are considered industry authorities.
For more information on our managed cloud services, contact us today, or reach out to us on Twitter, @zsahLTD, and LinkedIn,zsah.
Recommended reading: 8 Reasons You Should Adopt DevOp.
Like our post? Share now!