8 Trends Shaping the Future of Cloud Computing in 2021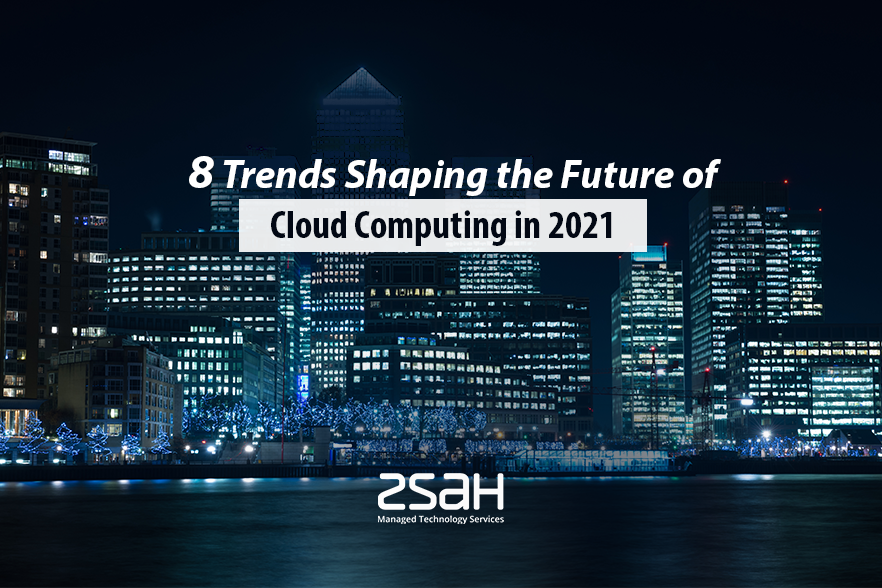 In the age of pandemics, cloud computing remains a priority for organisations looking for business continuity, cost efficiency and increased scalability in the future.
If there is one positive thing about the COVID-19 pandemic, it is to validate the cloud's value proposition. During the pandemic, cloud computing buttressed the global economy, remote workforces, and supply chains.
Businesses globally were able to survive by leveraging cloud services to allow staff to work from home.
With the global economy still taking a pounding from the pandemic, we present some cloud computing trends we expect to loom large in 2021 and beyond. These will help you consider how to find a cloud hosting provider or partner.
8 Trends Shaping the Future of Cloud Computing in 2021
Add a header to begin generating the table of contents
1. Cloud Computing to Take Centre Stage in the Post-Pandemic New Normal
Cloud computing played a crucial role in preventing the world economy from shutting down completely. As the COVID-19 impact eases, most industries will continue to rely on cloud computing to recover from the pandemic and grow.
If you are a software company or value-added reseller, this is time to find a reliable cloud hosting partner in the UK. Your clients will continue to rely on the cloud to run enterprise applications, remote collaboration, streaming, and other cloud-reliant technologies, to recover and thrive post-pandemic.
2. A Transition to Multi-Cloud Strategies
The big-tech providers have a walled garden approach to their services. Their services are marketed as one-stop shops providing an organisation with all their computing needs. The emerging trend is where organisations are uneasy with this model and prefer hybrid or multi-cloud setups.
According to a Flexera 2020 State of the Cloud Report, 93 percent of companies have a multi-cloud model, while 87 percent have a hybrid cloud approach. If you are in the market for a cloud hosting partner in the UK, you must have noticed the increase in private cloud companies offering hybrid/multi-cloud integrations with the dominant public cloud offerings.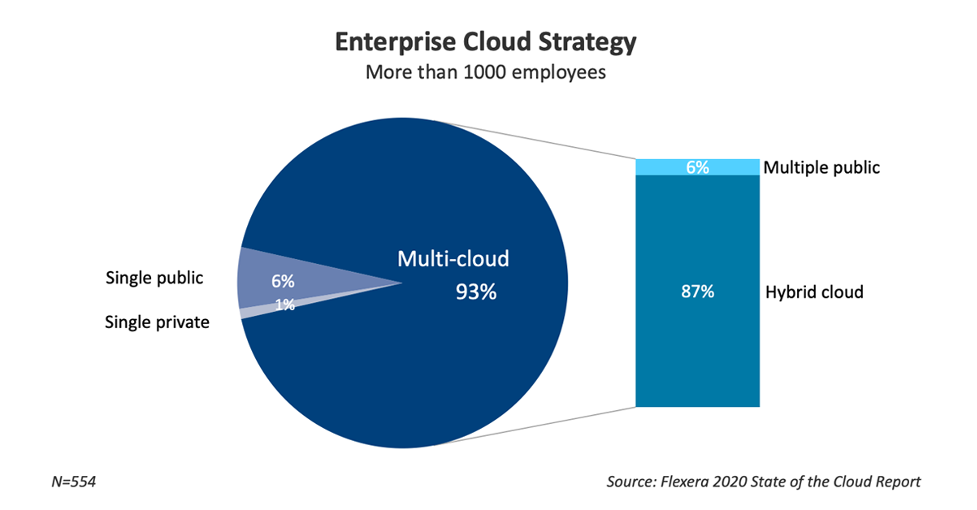 (Image source: Flexera)
3. Artificial Intelligence (AI) will Improve Cloud Computing
According to Gartner's Top Strategic Technology Trends for 2021, organisations need a strong AI engineering strategy to ensure their projects don't fail. Gartner's position is that most AI projects would fail to move past the prototype or proof-of-concept stage without AI engineering.
AI engineering is a critical enabler to adapting cloud computing technology to our needs. Cloud services enable users with low skill sets and limited budgets to access advanced machine learning functions.
With more AI engineering, cloud computing will make advanced toolsets more widely available leading to improved organisational efficiency and productivity.
AI engineering and machine learning (ML) also play a vital role in the processes that keep data centres up and running. Power usage, cooling systems, and hardware networks in fragile and expensive environments are all managed and monitored by AI algorithms.
Developments in this field will lead to new data centre speed and efficiency innovations.
4. More People Will Work on Virtual Cloud Desktops
Workstation environments will increasingly be delivered as a cloud-managed solution to a desktop or laptop.
Desktop-as-a-service platforms such as Windows Virtual Desktop and Amazon workspaces will become more popular. This is supported by the Anywhere Operations tech trend noted by Gartner.
The Anywhere Operations IT model enables staff everywhere, supports customers anywhere, and manages business services' deployment across distributed IT infrastructure. The technological ethos behind Anywhere Operations is "Digital First, Remote First".
With more people working on virtual cloud desktops, organisations will benefit from lower upfront costs, eliminating hardware updates, and enhanced security since all devices are managed centrally, and greater flexibility when people join or leave the organisation.
LOOKING FOR A CLOUD HOSTING PARTNER?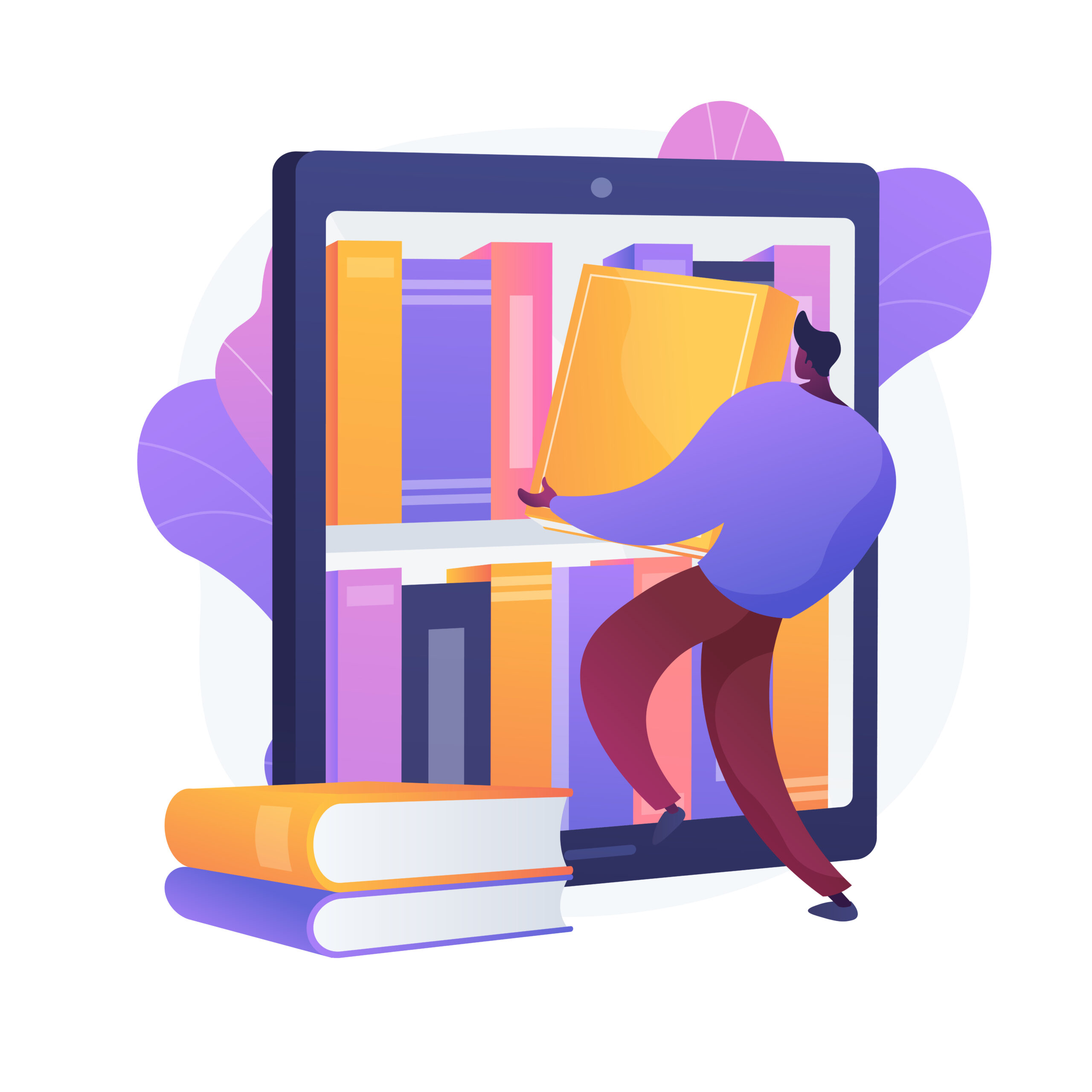 5. Distributed Cloud
According to Gartner, public cloud companies are transitioning to location-independent distributed cloud services.
In this setup, the public cloud provider maintains, operates and develops the services but physically provides them at the point of need. This eliminates latency issues and satisfies privacy regulations such as the GDPR that require data storage in a specific geographic location.
There are many types of distributed cloud, including:
On the premises

Internet of Things (IoT) edge cloud

Metro-area community cloud

5G mobile edge cloud

Global network edge cloud
6. Cloud-to-edge Applications will Grow
According to Frost and Sullivan projections, about 90% of industrial firms will use edge computing, data analysis and solution development at the date generation site, by the end of 2021.
Intelligence Edge makes businesses more efficient by reducing latency, cost, and security risks.
The global roll-out of 5G technology will lead to a massive demand for cloud-to-edge applications. Many public cloud providers have started shifting workloads to intelligent-edge platforms.
Already HP, Nvidia, Microsoft, and IBM have significant investments in strategic Intelligent Edge, 5G and AI applications.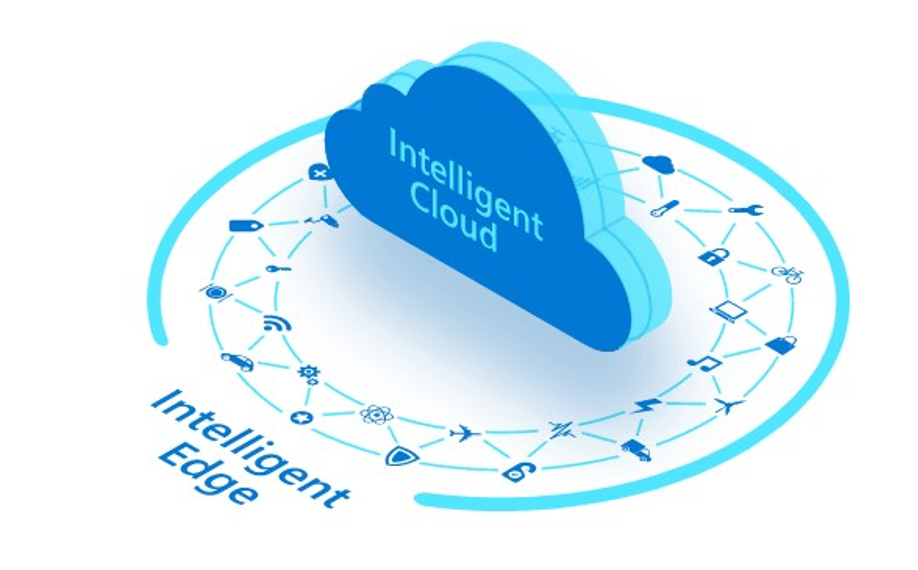 (Image source: Microsoft Azure)
7. Gaming Will Move to the Cloud
More and more companies are offering gaming-as-a-service.
Google, Amazon, and Microsoft launched gaming on-demand services in 2020 while Sony has had a solution for a few years. This trend is expected to continue into 2021 and beyond as cloud technology improves and 5G comes online - the advantages of cloud gaming similar to on-demand movie streaming services like Netflix.
Users don't need storage space for entertainment libraries and don't require specialised hardware which translates into lower overall costs. Cloud gaming also eliminates the piracy problem and helps developers generate more revenue by allowing gamers to play more than one game at a time.
It isn't surprising that Mordor Intelligence projects the cloud gaming market to grow to USD 2.70 billion by 2026, at a compound annual growth rate (CAGR) of 15.3% over a forecast period of 2021 to 2026.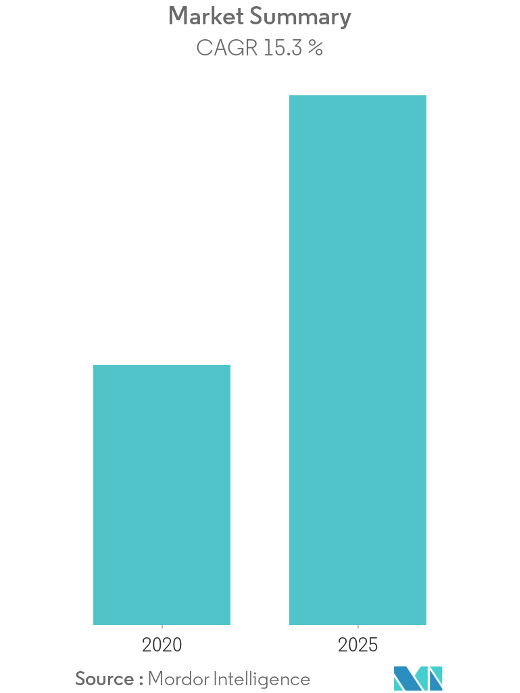 (Image source: Mordor Intelligence)
8. More Regulatory Control
It would be remiss of us to write about cloud computing trends and fail to mention the looming avalanche of regulatory control. In the Trump era, Big Tech companies found themselves fighting lawsuit after lawsuit. Tech executives had a hard time attending congressional hearings. The security and data privacy implications of cloud computing must ultimately result in regulation.
Cloud hosting companies in the UK and elsewhere will need to hire skilled data governance and compliance experts to ensure their firms remain on the right side of the law. Data governance and compliance will become a key result area for CIOs and CISOs.
Ready For the New Normal with Cloud?
The cloud is truly the new normal with the pandemic validating cloud's value proposition and associated trends such as work-from-home (WFH) accelerating the shift to the cloud. However, there is a significant risk that this momentum may not be sustainable given the severe lack of cloud-native talent in the marketplace.
According to one survey from last year, 86% of IT leaders expected cloud projects to slow down in 2020 due to a shortage of cloud talent. Gartner projects that this trend will extend into 2022 with insufficient cloud skills delaying cloud migrations by as much as two years, if not more.
The net result is that more businesses will fall short of their cloud adoption objectives. Therefore, access to cloud-native expertise will be a critical determinant of cloud success, and Gartner suggests that enterprises partner managed service providers with a proven track record in cloud enablement and management.
How zsah Managed Cloud Service Assists You?
At zsah, we have been providing managed cloud and IT services since 2002.
Our technical and service delivery capabilities span the cloud sector - from simple, secure hosting to software development - and we bring an extensive range of tech experience and skills - from low-level networking and security to strategic technology consulting for the C-suite.
Along with our global ecosystem of partners, including AWS, Microsoft and Verizon, we deliver best-in-class, secure cloud and software services in a genuinely partnership-led model that enables our clients to focus on their business.
So, whether you are looking for a cloud hosting partner in the UK to complement your in-house skills or you are reassessing the business value of your current partnership investments, we would be glad to discuss how our expertise and experience can help you manage costs, increase competitiveness, and improve reliability, scalability and agility.
Reach out to us on Twitter - @zsahLTD - and LinkedIn - zsah - to get more information!
Like our post? Share now!