Ten Innovative London Green Tech Brands Worth Watching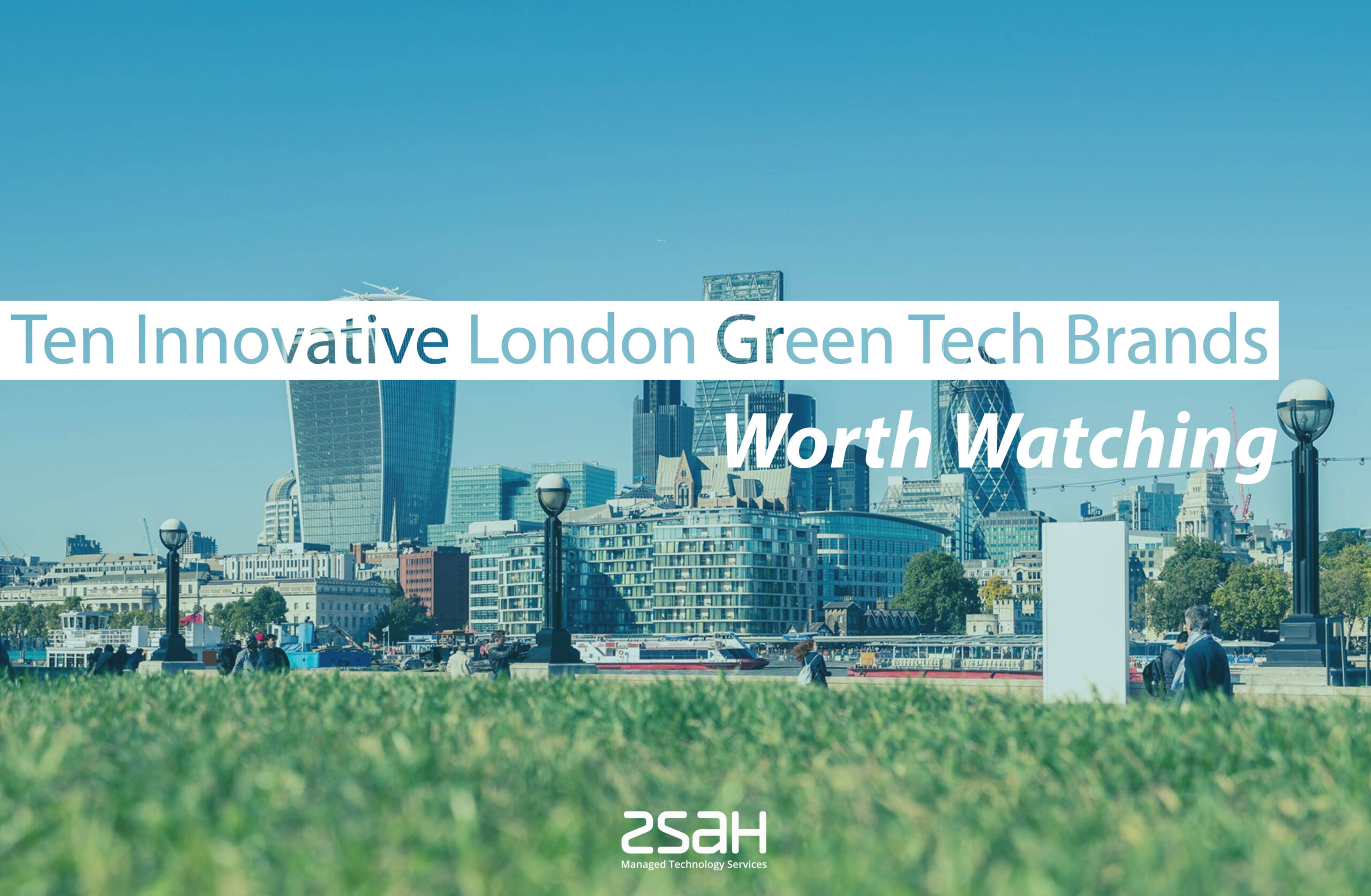 The need for green solutions to everyday problems has never been more keenly felt as it is today. With the effects of man-made climate change becoming ever more apparent in our day to day lives, industries the world over are actively searching for ways to make their operations more sustainable and environmentally conscious.
Carbon dioxide levels are at their highest level in 650,000 years, global temperatures have risen by 2.1 degrees Fahrenheit since 1880, the artic ice minimum is decreasing by 13.1% per decade, and we are losing 428 billion metric tons of ice sheet each year. These changes are causing sea levels to rise, weather to become more extreme, and has been behind recent disasters such as the wildfires in California and Australia, deadly floods across Europe, and many more besides.
It's no wonder then that the green technology industry has seen massive gains in recent years. The global green technology and sustainability market was valued at $8.79 billion back in 2019 and is predicted to rise to a staggering $48.36 billion by 2027. Like many industries, the COVID-19 crisis will slow this predicted growth slightly, but we can still expect the space to make significant gains now we are starting to emerge from the worst of the pandemic.
As the UK's historic capital, London has long been a hub of innovation and entrepreneurial spirit, which is reflected in its huge tech community. With that in mind, let's have a look at some of the best and brightest green tech brands disrupting The Old Smoke in 2021.
#1 Olio
Food waste is a massive concern when it comes to trying to be more sustainable and one only needs look at the vast quantities thrown away by our supermarkets to get a sense of the scale of the issue.
Olio seeks to reduce food waste by connecting people and businesses in a community and providing them with a way to share leftover groceries with one another instead of them ending up in the rubbish. Olio's free app allows non-food items to be shared across its platform as well.
Founded by Saasha Celestial-One and Tessa Clarke in 2015, Olio has acquired $53.1 million in funding to date.
Linkedin: OLIO
Twitter: @OLIO_ex
#2 Zenobe Energy
Formerly known by the far less catchy Battery Energy Storage Solutions Ltd. Zenobe Energy has been looking to meet the demand for battery storage solutions for the rapidly expanding network of electric vehicles on our roads. With the sale of fossil fuel vehicles set to cease in the UK by 2035, this demand is only going to climb.
The company provides intelligent flexible power solutions to commercial EV fleet operators, utilities, and industrial and commercial businesses. It presently has a 170MW grid of batteries in operation or construction and is planning to increase this by 500MWhr of additional grid-connected batteries over the next two years.
Founded by Nicholas Beatty in 2017, Zenobe Energy has acquired $330.3 million in funding to date.
Linkedin: Zenobe Energy
Twitter: @ZenobeEnergy
#3 Arrival
Staying with the topic of electric vehicles, London-based startup Arrival has a plan to furnish the world with fleets of them. Although the company has yet to actually begin production of its zero-emission commercial vehicles, it has recently announced its plans were on track to meet launch dates.
The planned vehicles include cars, vans, and even a bus and the innovative brand has an agreement with UPS to purchase up to 10,000 vehicles across the US and Europe, with an option for an additional 10,000 on top of that. If Arrival can make good on the deal and UPS options the additional vehicles, it could mean upwards of $1 billion in revenue.
Founded in 2015 by Denis Sverdlov, Arrival presently has $629.4 million in funding.
Linkedin: Arrival
Twitter: @arrival
#4 BBOXX
Reliable and sustainable energy provision is one of the biggest challenges facing remote communities. However, innovative startup BBOXX thinks it has found the answer with its exciting plug-and-play solar power solution.
BBOXX is a smart solar power generator which can be centrally managed and is remotely monitored using mobile internet networks. Not only can these generators provide power directly to the locations where it's most needed but, thanks to their mobile connectivity, can be continuously monitored for faults and for firmware updates to be installed. Today, BBOXX operates in ten African and Asian countries and has provided more than two million people with electricity and utilities worldwide and sold their products in 27 global markets.
Founded in 2010 by Christopher Baker-Brian, Laurent Van Houcke, and Mansoor Hamayun, BBOXX has acquired $169 million in funding to date.
Linkedin: BBOXX
Twitter: @BBOXX_HQ
#5 Compare Ethics
Modern shoppers, particularly those of the younger millennial and GenZ generations, are deeply concerned about the impact humans are having on the world around them and actively seek out brands which behave in a more ethical manner.
Compare Ethics has created an online platform which verifies the ethical credentials of businesses and provides conscious customers with a database of brands they can shop with in confidence. Compare Ethics also works with businesses to help them achieve verification, such as by becoming compliant with new UK and EU greenwashing regulations.
Founded by Abbie Morris and James Omisakin in 2018, Compare Ethics is presently in its pre-seed funding stage.
Linkedin: Compare Ethics
Twitter: @CompareEthics
#6 Notpla
The amount of packaging humans and their consumerist lifestyles create is truly staggering and hardly a day goes by that we don't see reports of massive flotillas of garbage clogging up our seas and waterways.
It's even hard to go for a walk without seeing fast food wrappers and other waste thoughtlessly discarded at the side of the road.
This crisis of rubbish has led Notpla to bring together designers, chemists, engineers, and entrepreneurs to create a new type of packaging, and the machinery necessary to manufacture it, which breaks down naturally. Notpla is a new type of material, made from seaweed and other plants, which biodegrades in weeks, not decades or centuries.
Founded by Pierre Paslier and Rodrigo García González in 2014, Notpla has raised $5.4 million in funding so far.
Linkedin: Notpla
Twitter: @notpla
#7 Tokamak Energy
A Tokamak is a device which uses powerful magnetic fields to store the plasma necessary for producing controlled thermonuclear fusion energy. Tokamak Energy has built several of these devices with the goal of producing safe and clean nuclear energy for commercial power generation.
Thermonuclear fusion is a lofty goal for energy production as it produces far less radiation and nuclear waste then traditional fission methods. However, the necessary combination of temperature, pressure, and duration has proved to be difficult to produce in a practical and economical manner – a challenge Tokamak Energy is seeking to overcome.
Founded in 2009 by David Kingham, and Mikhail Gryaznevich Tokamak Energy has acquired $123.1 million in funding to date.
Linkedin: Tokamak Energy
Twitter: @TokamakEnergy
#8 Pavegen
Created with the goal of generating sustainable electricity from pedestrians, Pavegen proprietary technology is really quite ingenious – if a little underwhelming at this stage in its development.
The London-based tech company has invented a type of floor tile which converts the kinetic energy from people walking over it into electricity. Not only this, but it is also capable of collected data on walking traffic patterns from the areas in which it is installed. However, the technology has been criticised for the relatively small amount of electricity it actually gathers. Pavegen has answered these criticisms by stating that it envisages its technology being used for smaller experiential applications proximate to where the tiles are installed.
Founded in 2009 by Laurence Kemball-Cook, Pavegen has gathered $8.5 million in funding to date.
Linkedin: Pavegen
Twitter: @Pavegen
#9 Trojan Energy
One of the biggest issues with the uptake of electric vehicles is that not everyone has somewhere they can conveniently charge them. People who live in flats or who don't have a driveway and rely on street parking can be pretty much shut out of the electric car experience – unless they want to trail an extension lead from a second story window that is.
Into this space steps Trojan Energy – a brand seeking to make electric vehicle charging more available and convenient to those people who have to park on the street. The solution Trojan has developed is a street-based charging point which sits flat and flush with the pavement and is lifted up whenever a car needs to be charged, creating a convenient and inobtrusive answer to the question of street-side charging.
Founded in 2016, by Ian Mackenzie, Trojan Energy has gathered £6.3 million in funding to date.
Linkedin: Trojan Energy Ltd.
Twitter: @TrojanEnergyLtd
 #10 BuffaloGrid
Another company striving to bring mod-cons to remote and isolated communities, BuffaloGrid wants to "connect the next billion" make sure everyone has access to phone charging and content streaming services.
Using a blend of solar-powered hardware and smart software, BuffaloGrid works with local partners to tailor its media provision to each region. Its main focus is on education and healthcare, but also brings the fun with several sports and entertainment content packages as well. Each proprietary BuffaloGrid Hub serves around 600 people and can charge ten phones simultaneously, support thousands of daily downloads, and allow 20 devices to stream content at the same time via the BuffaloGrid smartphone app.
Founded in Belfast in 2011, by Daniel Becerra, Daniel Fogg, and Phil Schluter, but now officed in London, BuffaloGrid has acquired $7.8 million in funding to date.
Linkedin: BuffaloGrid
Twitter: @BuffaloGrid
Final Thoughts
London continues to be a central hub for all manner of innovative technological developments, and it seems highly likely this pattern will continue far into the future. The city has a long-held reputation for innovation, entrepreneurship, and industry and it's great to see a new generation of brands carrying this torch forward in the 21st century – with silicon and electricity in place of the steam and coal of yore.
In particular, it is encouraging to see so much of this entrepreneurial energy being devoted to green technology. There are so many opportunities available for technology to help make the Earth a better, cleaner, and more sustainable planet and we can only hope this spirit of innovation continues to strive to mitigate the worst of the effects of man-made climate change.